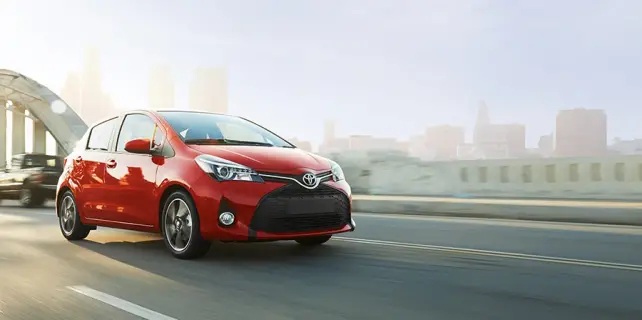 2015 Toyota Yaris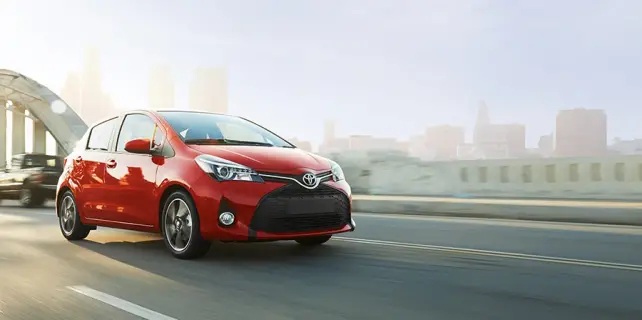 2015 Toyota Yaris is a subcompact car developed and produced by Toyota since 1999. It is in its third generation now, but by the architecture of its engine and all the things it has to offer, it looks like it still lives in nineties. The only competitive attribute of this car is its price.
In this review we are going to mention some of the main pros and cons about this vehicle, interior, exterior, engine and price.
2015 Toyota Yaris Engine
The only engine offered in the 2015 Toyota Yaris is a 1.5 liter four cylinder with 106 horsepower. The lack of any modern technology is a disgrace. At least they could offer something like a direct injection or a turbocharged engine. But no. In the end, driving this car looks like you are in "Back to The Future". Performance is relatively low, and that's only if you are changing the gears by yourself. We are not even starting about the four speed automatic which will probably going to be a first choice for anyone buying this car, but it is a relic and has that really wide gap between the third and fourth gear. Their main competitors already have five or six speed automatics with much better fuel efficiency.
The rest is quite good. We didn't have anything against the 2015 Toyota Yaris suspension modifications which include softer springs, a stiffer torsion beam for rear and stiffer shocks overall. The electric power steering is much better than on any other Toyota.
2015 Toyota Yaris Interior
The interior is nothing that we haven't seen before. It is a small car, and usually for designers, size does matter. Storage space is decent, and front seats provide good support for ties and back. Materials used for the interior are nothing special, consisting of cloth and plastic. There is one Toyota's Entune Audio system with small screen and a CD player. Infotainment system has HD Radio, voice recognition, auxiliary input, USB port and a Bluetooth audio streaming. Climate controls look good but feel very cheap on touch. The rear seats are not that good as front ones. There are no arm rests, leg room is good having in mind the size of the vehicle.
Quality of riding in this vehicle has been lifted for a notch, together with the quality of sound isolation inside the cabin. Overall, it is a small vehicle with not much to offer.
2015 Toyota Yaris Exterior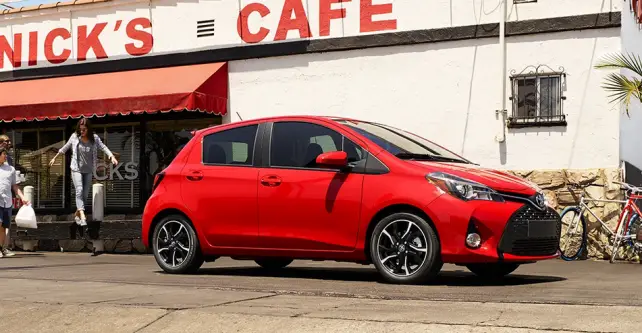 Basically there are three versions of 2015 Toyota Yaris. Base L, medium level LE and top notch sporty SE. The price difference between the three of them is not big. Top model, the 2015 Toyota Yaris SE is the one worth mentioning. With 16 inch sport wheels, rear disc brakes, projector beam headlights, LED daylights, black front grille (big front grille, unlike the last year two part grille), a rear spoiler, sport seats and leather trim steering wheel.
2015 Toyota Yaris Price
Price for 2015 Toyota Yaris goes from 14,000 to 17,620 dollars, depending on a trim level you choose and the seller you are buying from.
2015 Toyota Yaris Summary
Yaris is traditionally Toyota's lowest priced car. Judging only by that fact, we didn't expect much from it. In the end we got, even less than what was expected. Engine is really old, plastic all over the interior and the only bright side was good handling, comfortable seats and decent exterior. There is an old saying:"if you don't know what is good, ask what is expensive".
Comments
comments