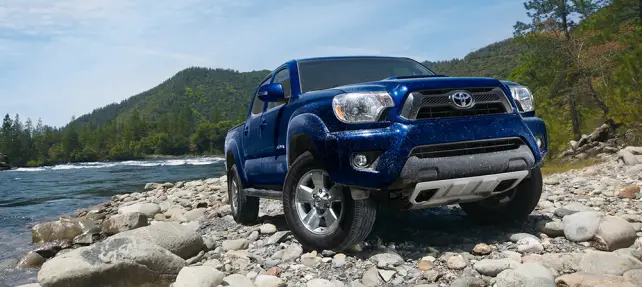 2015 Toyota Tacoma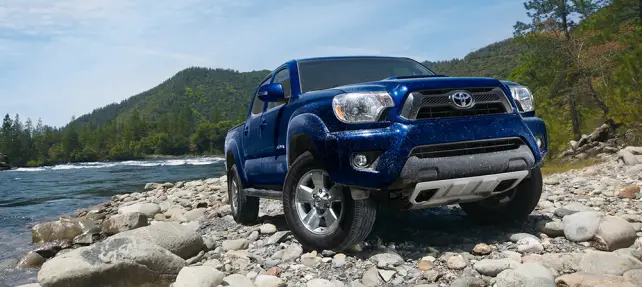 Another pickup truck, manufactured in the United Stated by the Japanese car manufacturer is the 2015 Toyota Tacoma. Production of the second generation of this car is now at its end. And the next generation has been announced at the 2015 Detroit Auto Show on January the 12th. Manufacturer promised that everything will be just fine and that they will, once again, set the benchmark for every newcomer to the midsize pickup family.
In this review, you are going to learn some of the most important unimportant things about the 2015 Toyota Tacoma's interior, exterior, engine specs and price.
2015 Toyota Tacoma Interior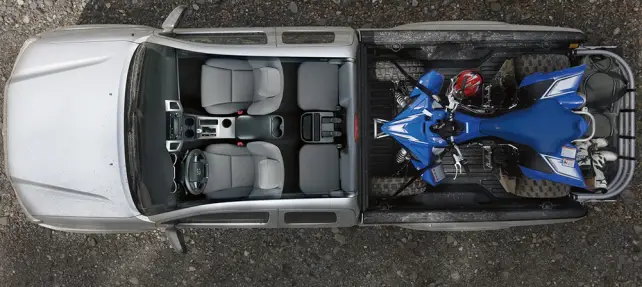 2015 Toyota Tacoma interior got some serious audio improvements with the Bluetooth hands-free connectivity fully integrated and the USB-iPod ports. The updated system is now a six speaker system with a satellite radio improvements. That entire system is now connected to the new Entune system (finally) which include full support for the navigation, text-to-voice, mail-to-voice, HD radio, Bluetooth audio streaming and real-time weather/traffic forecast/situation.
There is a little bit more color diversity inside the car, which brakes that metallic, grey wall, previous versions,  held close to their hearts. That black accent around the radio and navigation is a small thing to notice if you are not the Toyota Tacoma driver, but if you are, this is going to be a refreshment. The second tiny detail is a blue backlight which took the place of that old orange look.
2015 Toyota Tacoma Exterior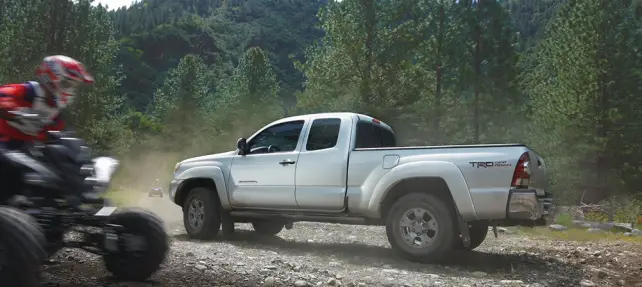 Outside, the 2015 Toyota Tacoma has a new black trim on the grille, rear parts of the truck and wheels. Front part of the 2015 Toyota Tacoma got a sharper look with headlamps wrapped into the grille and higher turn signals. In that way, Tacoma got somewhat beefed up look. Going further towards the end, the "compact" side comes to the first plan. Overall, flared wheel wells and flared fender sheetmetal just adds a hint of aggression and a flare of the sport look which is one of the main impressions for the Off road trims. Models with the TRD Sport Package have turn lights integrated in the new side mirrors… if that is something worth of additional paying.
All other noticeable details are just hints of a traditional compact-truck design, deeply carved into the soul of this car. That straight forward design is a base design carried (and mostly unchanged) from the 2005 design.
2015 Toyota Tacoma Engine
The base of 2015 Toyota Tacoma engine is a 2.7 liter four cylinder with 159 horsepower and 180 lb-ft of torque, which is powerful enough if you are not towing or hauling anything. You can choose from two transmission options, a five speed manual and a four speed automatic. But, overall, the five speed manual is better due to the poor fuel economy of its counterpart. The second version is a 4.0 liter V6 which is a totally different story. It has 236 horsepower and 266 pound-feet of torque which is more than enough for anything you have the 2015 Toyota Tacoma for. Towing, pulling, pushing, you name it, the 2015 Toyota Tacoma will do it. Although it gets a little bit clumsy when going faster than 70 mph but that's all.
2015 Toyota Tacoma is made for off road driving, like every other real medium size or a full size truck. But even with those standards, 2015 Toyota Tacoma is not good the urban roads. It feels hard and in the moments even disconnected with the road. It feels almost like it is a full size truck due to its lack of maneuverability. Since it is so bad in the urban conditions, we have to judge it by preferences in which it is made to be among the best.
The payload is deep into the 3/4 ton category (it varies from model to model), and the tow rating goes up to 6,500 pounds. It is fully equipped for the off-road, with everything from 4WD, locking differential to skid plates, huge tires and the off road suspension.
There are four available transmission in total: 2WD or 4WD, two cab configurations, two cargo bed lengths and plenty of other choices.
2.7 liter 4 cylinder engine
159 HP/ 180 lb-ft of torque
Fuel consumption – 21/25 mpg (2WD, manual), 19/24 mpg (2WD automatic), 18/21 mpg (4WD, manual and automatic)
4.0 liter V6
236 HP/ 266 lb-ft of torque
Fuel consumption – 16/21 mpg (2WD, manual), 17/21 mpg (2WD, automatic), 16/19 mpg (4WD, manual), 16/21 mpg (4WD, automatic)
2015 Toyota Tacoma Price
Since it is offered in so many different configurations, the 2015 Toyota Tacoma price varies from 21, 650 for a base 2WD Access Cab to 36,000 dollars for a fully equipped 4WD Double Cab V6.
2015 Toyota Tacoma Summary
Overall quality of this vehicle cannot be questioned. It is a vehicle with a solid reputation. It is a very durable and reliable vehicle. This year model has not go through some serious changes but some minor cosmetic ones. And yet, the bad side of this is that it can't really match the payload and/or passenger capacity of a full size pickup. There are no V8 or diesel versions and due to those restrictions the 2015 Toyota Tacoma's towing and fuel economy figures are not so good, and considered somewhat restricted. The overall consumer rating for this vehicle is good. So, if you really think that you need one of these, and you are a fan of Toyota Tacoma, ask around, buy it and tell us about your impressions.
Comments
comments