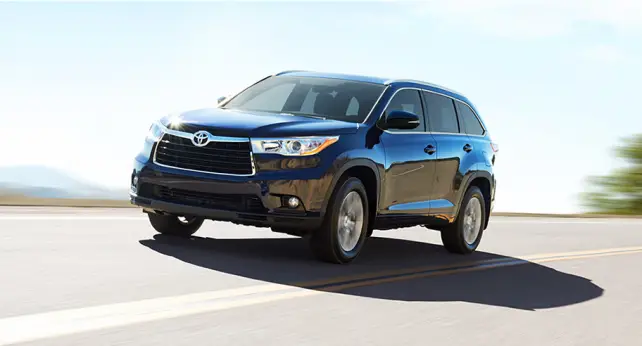 2015 Toyota Highlander
The 2015 Toyota Highlander is a midsize SUV built on the Toyota Camry's platform. The most recent and modern, third generation, of this vehicle has been made as a longer and more wider version of the previous generation. The newest addition to the third generation, 2015 Toyota Highlander, is a more civilian orientated alternative for Toyota 4Runner and it has more space inside, than RAV4. One more thing that makes this vehicle better than other similar vehicles from Toyota, is a good fuel efficiency, provided by a hybrid technology.
In this review we are going to show how good or bad is this vehicle, thoroughly analyzing its exterior, interior, engine and price.
2015 Toyota Highlander Exterior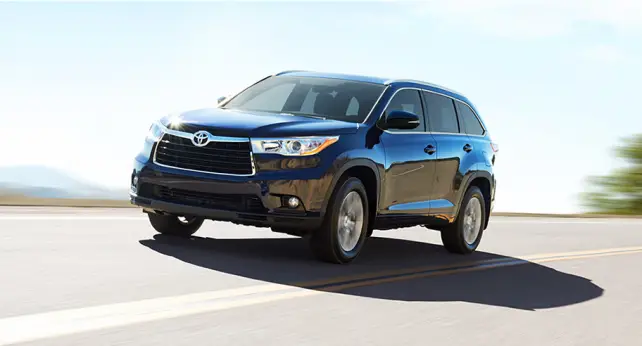 Styling used in this generation is much more pleasing to the eye than something we used to see in those less popular, previous versions. Yeah, it is something we can find in other popular crossovers and it is nothing new. The 2015 Toyota Highlander exterior is practically a combination of the best looking SUV's you can think of… and that is not bad thing. I mean, is it bad if you make a meal with chocolate, bananas, strawberries, vanilla pudding… actually I feel a bit hungry… In this mechanical meal you are going to find some Dodge Durango, BMW X5 and the Mitsubishi. The size of this car, combined with all those cues and traits, makes it very muscular and manly, a true "testosterone  bomb".
2015 Toyota Highlander Interior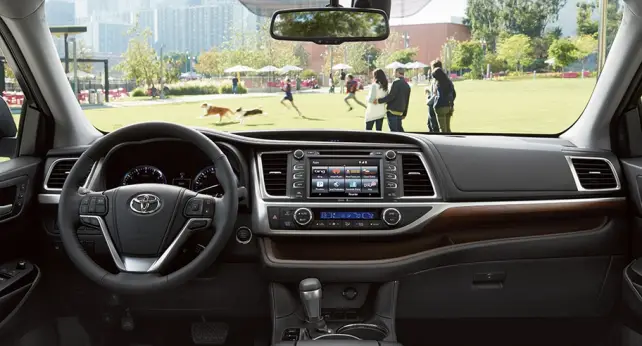 This is a completely different story. It almost looks like you are entering a huge car. The 2015 Toyota Highlander interior looks nothing like a truck. It offers you a truly unique feel of driving a huge vehicle, in a friendly cozy environment. Comfortable heated and ventilated front and second row seats (cloth seats are a standard – leather upholstery is an option), modern horizontal theme with centralized 6.1 inch multimedia screen (which is quite easy to use), dual zone climate control, central console which can hold up to 58 standard size juice boxes, day/night rearview mirror and even more as an optional equipment.
2015 Toyota Highlander Engine
Like in almost any Toyota vehicle, buyers can choose from multiple engine options. The base option is a 2.7 liter, 4 cylinder engine with 185 horsepower and 184 lf-ft of torque. Second version is a 3.5 liter V6 with 270 horsepower and 248 lb-ft of torque. Most people choose the second one, obviously because of its power but for their very similar fuel consumption. With getting more, they spend less – "logic". Both of those powerful engines are tamed with a six speed automatic gearbox, but the V6 has one more option – AWD.
Toyota wouldn't be true to itself if it didn't have a hybrid in its trenches. That hybrid is available only as a top tier limited edition. It pairs up the same V6 the 270HP version has, with two electric motors and together they produce a total of 280 horsepower. This version is more expensive, but hybrids are always a good bargain.
2.7 liter inline 4
185 HP/ 184 lb-ft of torque
fuel consumption – 20/25 mpg
3.5 liter V6
270 HP/ 248 lb-ft of torque
fuel consumption – 19/25 mpg (FWD), 18/24 mpg (AWD)
3.5 liter V6 Hybrid
280 HP/ 215 lb-ft of torque
fuel consumption – 27/28 mpg
2015 Toyota Highlander Price
Prices for 2015 Toyota Highlander go from 29,000 to 48,000 dollars. The price depends of the trim level you choose. I mean, if you choose the basic trim level with non heated cloth seats, 2.7 liter inline 4 engine, no rear view camera, basic wheels, etc., you will pay the smallest price. But if you would like to spend the smallest amount of fuel, and get the 2015 Toyota Highlander Hybrid Limited edition for 48,000 dollars. You get the picture. The medium option that would satisfy almost any driver, is a 2015 Toyota Highlander XLE which has plenty of options and it is not that expensive.
2015 Toyota Highlander Summary
Overall the 2015 Toyota Highlander is a safe choice. It is a very comfortable and feature packed vehicle with a huge line of options to choose from, depending of your budged. But if you need a vehicle for a true off road experience, towing or some other extreme capability, you would most certainly like the Toyota 4Runner more than this car.
Comments
comments