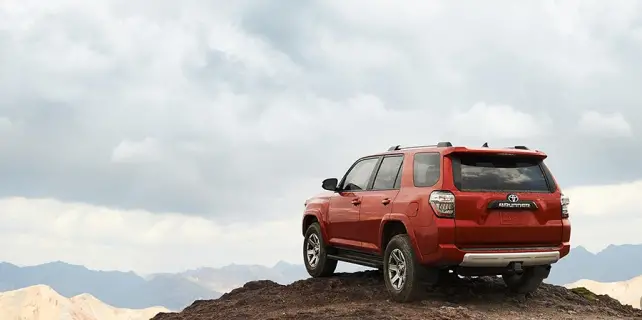 2015 Toyota 4Runner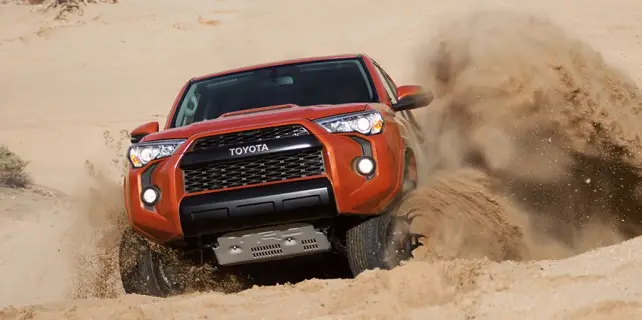 The Toyota 4Runner is a medium sized sport utility vehicle manufactured by the Japanese manufacturer Toyota since 1984. The original idea was to create a compact sport utility vehicle with classic Toyota pickup truck look. It came through a lot of changes through this years of manufacturing and came to be a crossover between  a compact and a medium size SUV. The 2015 Toyota 4Runner is the representative of the fifth generation of this vehicle.
2015 Toyota 4Runner is actually one of the last SUV's which stayed loyal to the classic architecture. A lot of modern SUV's take parts and ideas from passenger vehicles. This is not the case with 2015 Toyota 4Runner. This is the real off-road vehicle meant for real enthusiasts.
The problem is that these vehicles are called sport utility vehicles, and that "utility" part is fading away. Where are the good old days when SUV's were off road vehicles and not just some overhyped family wagons? Nowadays, people buy luxury SUV's, and then gloat about the snow driving capabilities of their SUV and how happy they or their wives were about the cargo space, after going to the grocery store for the first time…
You can't find anything luxurious in 2015 Toyota 4Runner. Even marketing agencies tend to call it everything but, "luxurious". You can only find an expressions like "truck" connected with  "it will drive you through anywhere". Actually this would be a perfect vehicle for surviving any kind of apocalypse, especially the 2015 Toyota 4Runner Trail Edition.
In this review you are going to know yourself a little bit better with the engine specs, interior, exterior and the price of 2015 Toyota 4Runner.
2015 Toyota 4Runner Exterior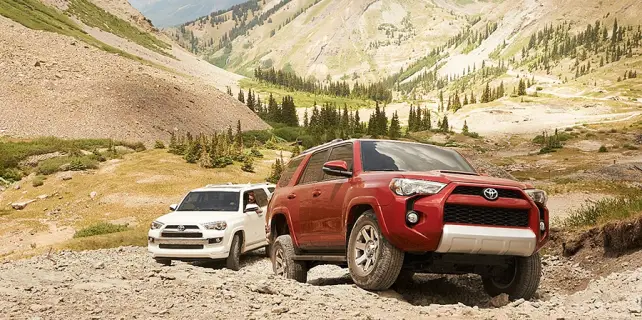 The basic look of Toyota 4Runner hasn't changed in 2015 version. You can like that or not, but that good old truck front combined with a wagon body stayed right where it should have stayed. There are some chrome parts, but only added to protect the paint from trees and rocks. The front end kept that more aggressive line from the last year version and on the back you can notice that conservative more traditional line with wide C-pillar.
2015 Toyota 4Runner Interior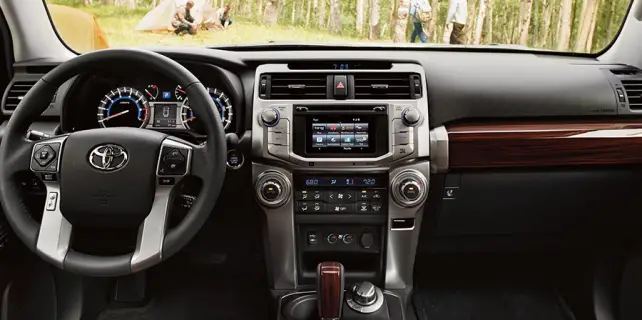 The 2015 Toyota 4Runner interior is also made in a traditional way with some minor modern details. Nothing that can get your attention off the road. (get it? off-road) Everything you need is displayed on an overhead console with other (less important) controls positioned on the central part of the dashboard. They are accessible and well positioned. Secondary display with radio controls and navigation is positioned in central part with additional controls for Bluetooth functions on the steering wheel.
2015 Toyota 4Runner Engine Specs
The only engine offered is a 4.0 liter V6 engine with 270 horsepower and 278 pound-feet of torque. Fuel consumption is estimated at 17/22mpg for a RWD and 17/21 for 4WD. The basic V6 SR5 model is offered with RWD and part time 4WD system, while the 2015 Toyota 4Runner Trail version and 2015 Toyota 4Runner TRD Pro models come only with the part time 4WD. All versions come with an electronic five speed automatic transmission.
Overall, on the test track, the 2015 Toyota 4Runner runs better than the last year model, a little bit quicker and more agile. On first, we couldn't really expect some great maneuverability, but we were wrong. We based our assumption on the size of this vehicle, but this beast handles itself with such a precision and the visibility isn't that bad neither. But be very careful, and don't get fooled by its agility, the 2015 Toyota 4Runner is a big and tall vehicle so you have to take care of those corners and turns with caution. Especially be careful in base models. Because they are known to be "roll experts" on the rough terrains. The limited model and 2015 Toyota 4Runner Trail are a different story.
2015 Toyota 4Runner Limited Edition has X-REAS system specially designed for cornering and smoothing the out bumps and 2015 Toyota 4Runner Trail has a so called KDSS (Kinetic Dynamic Suspension System) which uses hydraulics to reduce all those unwanted motions on the road and increases the pleasure of riding in this vehicle.
2015 Toyota 4Runner Price
2015 Toyota 4Runner price depends on the trim level, or the version you want to get. Base option is around 39,000 dollars and goes up to the 45,500 dollars for the highest trim. Trail edition is 6,415 dollars extra, and includes a lever type 4WD selector, 4WD crawl control, multi-terrain select, KDSS, rear differential lock, automatic disconnecting differential, Sirius XM satellite radio, SMS to speech and email to speech, adjustable seats, SofTex leather seats, power sun roof and a lot more.
Comments
comments